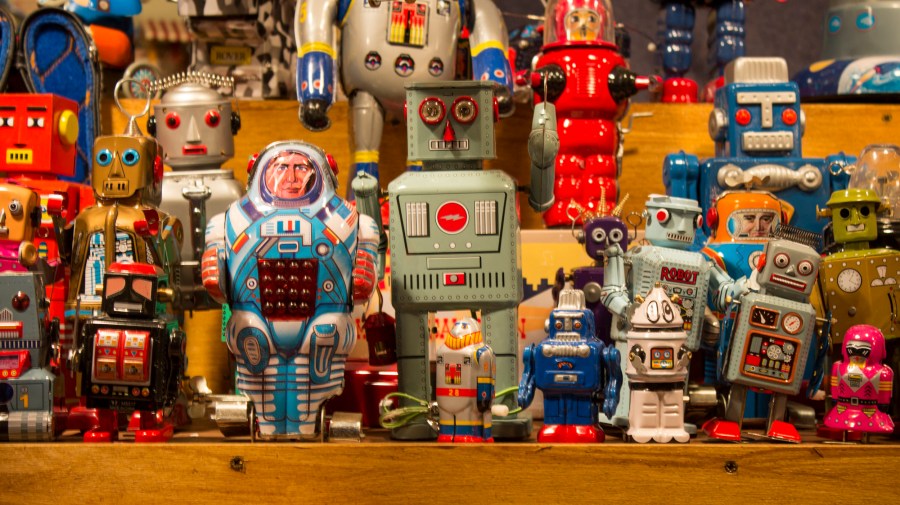 Do you have a basement full of Beanie Babies or a loft full of LEGO you're looking to clear out? If your plans currently include donating them to the local thrift shop, don't start loading your trunk with boxes just yet. You might be surprised to find out just how much money you can get by selling old toys for cash, even when they're not celebrated collectibles.
Selling your old toys does take a bit of effort, and there are some key steps to follow to ensure the process goes smoothly. But, you can reap some serious financial rewards by doing so. If you're looking to make some money off your used toys, this guide can help you decide which option is right for your needs, along with how to pursue it.
Before you consider putting all those childhood gems up for sale, it's essential to know how much they're worth. Remember that sentimental value can't factor into this equation; listing them at a value higher than they typically go for means you likely won't make a sale. And, on the flip side, undervaluing them means less cash in your pocket. To price your old toys just right, it helps to do a little research first.
Learn Each Toy's Identity
First, you'll want to figure out some basics about the toy, like who made it and when. The age and manufacturer of your toy are factors that help determine its value. When you know details like the toy's exact name, its batch number, its color and its year of release, you'll have an easier time researching what similar toys have sold for and using that as the basis of your pricing.
Assess Your Toy's Condition
The better your toy's condition is, the more money you can usually make from it. This means if your toy shows no or only slight signs of wear, it may make more than if it has visible damage. You also stand a higher chance of making money from it if it still has its original packaging or box intact.
Check for Similar Models
Some toys come in series or models that differ from each other, often in terms of color, material or toy features. And even if these differences are subtle, they can still impact a toy's value. Specific models are also rarer or in more demand than others. Read up on the rarity of your toy's model and variations and find out what the same type of toy has sold for before you set its price. 
Find Toy Valuators
You may find it challenging to come up with a decent value for your toy, especially if it's rarer and there isn't much information available online. This is where toy valuators come in handy. These professionals are knowledgeable about toys and their variations, histories and worth, and they can provide accurate appraisals off of which you can base your price. Some of the top evaluation companies to start with include Weiss Auctions, Skinner, Sotheby's, Heritage Auctions and Bonhams.
Where to Sell Old Toys
Besides earning you some extra cash, selling used toys helps buyers save money too. So, it can pay to find several different ways to sell your used toys, both online and offline, depending on their condition and whether they're collectibles. These are some of the most convenient and easy ways to sell used toys.
Local Consignment Stores
Your local consignment store might have demand for toys. Call up these stores and ask whether they have toys and whether they have some like those you want to sell. Keep in mind that some of the stores may only buy toys in bulk, and you may not make as much money as you would selling through other platforms. Consignment stores take a portion of your profit, but they may also be more likely to take common toys or those that have more damage.
E-commerce Websites
E-commerce sites make buying and selling goods so much easier — and that includes your old toys. Online stores and platforms like eBay, Craigslist, Amazon and Mercari are great for selling your toys. These sites may have competition from other sellers, but they expose your items to people across the internet, increasing your chances of a sale. Just be sure to learn about any fees or memberships you need to pay for first.
Toy Shows
Toy shows are also another great way to sell used toys. Besides being fun, these shows have large turnouts of people looking for valuable toys — they're ideal for selling rarer collectibles or large quantities. Having a display table at a toy show like the ABC Kids Expo or the New York Toy Fair means you have a great shot at selling your old toys. Keep in mind that events like this cost money up front and don't give you a long-term option for pursuing sales because they only last for a few days at a time.
Auction Websites
Many of the popular toy-valuation sites also double as marketplaces for collectibles. These websites not only tell you what your toy is worth, but they also host auctions where your toys can find buyers. Get in touch with a site that specializes in the type of toy you're selling and ask about their pricing, terms and conditions. 
Toy auctions can be held online or offline, and they typically involve displaying toys (or photos of toys) and letting collectors bid on them. There's a set starting price, and buyers increase their bids until potential buyers stop bidding. 
There are several toy auction sites where you can sell your used toys. Sites like Liveauctioneers, Invaluable and Bertoia Auctions are a few examples of toy auction sites that can connect you with potential buyers looking specifically for toys.
Most of these sites expect you to present clear photographs of your toy. You'll also need to give them as much information on the toy as possible. This includes details like the toy's history, how old it is, any damage information, manufacturer details and any other features that make it unique. After this, the auctioneers can give the toy a valuation and schedule it for display.
Toy-Collector Clubs
Plenty of people collect toys as a hobby, and you can find them in toy-collector clubs. These groups are great because the people in them already know how valuable your toy is — and they might already want to buy it. Toy-collector clubs typically focus on certain types, brands or eras of toys. Some of the more well-known clubs around include Antique Toy Collectors of America and the Fisher-Price Collectors Club.
How to Market Your Old Toys
Think about this. When you're shopping online, are you more likely to purchase something with a photo that's dark, dingy and disorganized — or will you go for the item you can clearly see in a well-lit, clean space? Most toy buyers will choose the latter. If you aren't selling through an auctioneer or company that'll take professional photos of your item, you'll need to handle this step yourself to market your items in a way that increases their chances of selling.
Enticing photos are just one part of the marketing equation, though. Marketing is a great way to get people to notice your toys, and there are several ways to market. What you choose will mostly depend on where you intend to sell your toys. This means each platform comes with its own requirements. Before you break out the camera, you need to make a workable budget for your marketing efforts.
E-commerce sites, for instance, require you to have compelling descriptions for your products. This means you should write a brief description that highlights your toy's value and key characteristics. Your description also needs to have keywords that most buyers use when running searches your toy is more discoverable. 
Show all sides of the toy in your photos. If the toy lights up or has a distinct indicator that it's operational, take a photo to demonstrate. Avoid using online stock images; you want to post photos of your actual item so buyers know what they're really getting.
If you have many toys to sell or intend to sell at a show, you can leverage social media to create buzz about them. Let people see the photos, write the descriptions as captions, indicate the prices and give details on how they can attend or get in touch if they want to buy.