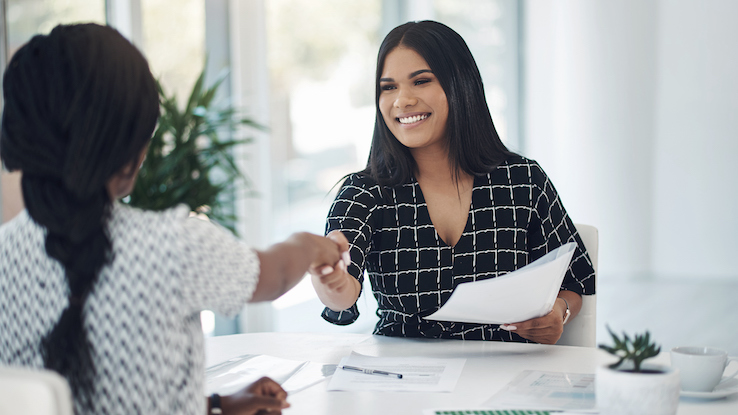 Starting a new job always requires plenty of paperwork. There are handbooks to read, routines to learn and tax documents to sign. One of the documents necessary for beginning employment in the United States is the Employment Eligibility Verification I-9 form.
This simple document helps certify your identity and work eligibility status. If you've never encountered one of these forms before, it helps to understand some key things about it, including what it's for, what's on it and how your employer can use it. Get better prepared for your new job by learning the I-9 form basics we've outlined below.
Form I-9 is a mandatory employment document published by U.S. Citizenship and Immigration Services. The three-part form has spaces for both an employer and an employee to complete. There are no fees associated with completing an I-9 form. Because employers are only required to retain copies of the forms rather than file them with a government agency, there are no filing fees for employers either. 
As part of the process of completing the form, an employee must supply at least one official document that verifies their identity and eligibility to work in the United States. U.S. citizens, permanent residents and certain temporary residents can work in the United States. If you're undocumented, you need to obtain what's called a U visa to work.
What Is the Purpose of the I-9 Form?
The main purpose of Form I-9 is to verify a person's eligibility to work in the United States. Newly hired employees must prove their identities and their ability to work legally in the country. Employers have a legal obligation to verify new employees' identities, and they do this using Form I-9. If they fail to do this after an employee has been hired, they can face steep fines. The practice of hiring people who are ineligible to work in the United States deprives the IRS of employment and income tax revenue that it would receive from employees who can verify their identities and legal work status.
The I-9 form also prevents tax fraud and crimes related to identity. A candidate for employment cannot simply claim to be John Doe. The employee must supply verifiable legal documents that prove he is John Doe. Without these safeguards, employees with criminal histories could lie about their identification to get jobs that could allow them to commit crimes again. For example, someone who served a sentence for embezzlement could hide their identity to work as a bank teller and potentially commit similar crimes. 
The form also prevents schemes in which an employee intentionally gets paid using another person's Social Security number, perhaps to evade paying income taxes or to illegally share in some tax advantage that the employment will provide for another individual. 
How to Fill Out the I-9 Form
Filling out Form I-9 involves you and your new employer. First, you complete Section One. You list your full name, maiden name if applicable, date of birth, address and Social Security number. Next, you select which work-eligible status you fall under and sign and date the form. 
If you indicate that your employment authorization expires on a certain date, your employer is responsible for having you fill out the form again no later than the expiration date. At the time of the update, you'll provide new documentation, and your employer will fill out Section Three. 
A preparer or translator can help employees who aren't able to read, write or understand English complete the form. To the best of their ability, employees are still responsible for writing their own signatures. If a preparer or translator helps someone complete the form, that person must sign and date it. The preparer or translator also has to list their address. 
In Section Two, your employer verifies that they've retained and reviewed sufficient documentation to prove your work-eligible status. Your employer needs to list out the provided documents, their issuing agency, any identifying numbers and any expiration dates. Finally, your employer signs and dates an attestation to the accurate completion of the certification.
The final page of Form I-9 includes three lists of acceptable documents to prove your employment eligibility. You can submit one item from List A or one from List B and one from List C together. Passports and Permanent Resident Cards are two of the most common List A items people submit. If you don't have a List A document, you can submit your Social Security card and driver's license to satisfy the List B and List C requirements. 
How Do Employers Use the I-9 Form?
Employers must obtain a completed I-9 form and proof of any associated documents no later than the beginning of a new employee's start at the company. It's not customary to include this form on a job application. Rather, an employer usually waits until they've made an offer for employment (and the prospective employee has accepted it) to have a new hire complete this form.
The exact point in your hiring process when you'll complete this form is up to the business, but the latest you should fill it out is first thing during your first shift. It's often a wise choice on the employer's end to have new hires fill it out earlier, just in case there are any delays in producing the required documentation. Next, your employer has to complete Section Two before the third business day after your first day of work. Employers are legally obligated to keep an I-9 on file for every employee. Unlike other government forms, employers don't need to send the I-9 anywhere, but they do need to keep the form on file. The Department of Homeland Security, the Department of Justice and the Department of Labor can audit the I-9 forms that a business retains. The guideline is to keep the I-9 until the latest date of three years after the employee was hired or one year after the employee stopped working for the employer.